Elk Mountain Ranch was sold in November, 2005. Parties interested in hunting, fishing or other recreational pursuits will have to contact the new owner.

Parties interested in buffalo meat, buffalo livestock or buffalo hunts should contact us as indicated below. Most of our buffalo were moved to a new ranch we acquired in northwest Kansas, an area of historic bison range not unlike Elk Mountain, Wyoming, although a bit lower in elevation.

If you're a longtime customer, you know that the owner of Elk Mountain Ranch, Peter, formed a meat company called The Buffalo Guys with a partner named Ken. That website is the place to go for home-delivered meat and/or to find a store near you that carries their products. CONTACT www.TheBuffaloGuys.com

If you are interested in buffalo hunts or animals for your own butcher to prepare for you (purchased in quarters, halves or wholes), please contact our new joint-venture in Kansas, Beaver Creek Buffalo. There is more info on the new website, www.BeaverCreekBuffalo.com

If you are interested in high-quality breeding stock, you should also contact Beaver Creek Buffalo, and that can
be done via the following number: 785-899-9274 (The Buffalo Guys main line)

Thanks for your interest in Elk Mountain Ranch.
Elk Mountain Ranch is a wonderland of wild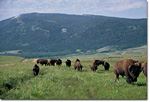 spaces and wildlife places. It teems with herds of Rocky Mountain Elk, Mule Deer and Pronghorn Antelope, which roam the ranch freely. A herd of 600 American buffalo (bison) are confined to one part of the ranch, which exceeds the size of the city of San Francisco. Every fall during September, October and November, guided big game hunts are conducted for our clients.

From its open prairies to its mountain summit of 11,200-feet, the ranch is a wildlife paradise. Bald eagles and golden eagles hunt for prey while fishermen at one of our six stocked lakes catch various kinds of fighting trout, including cutthroat, rainbows and browns. Day trips to the nearby North Platte and Medicine Bow Rivers are conducted by our guides, so the fishermen can enjoy both stillwater and blue ribbon fisheries.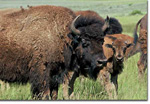 All sorts of raptors and songbirds would enthrall bird watchers and other wildlife enthusiasts; as many as 20-species can be seen in a one-hour hike. Many of our corporate and private vacation guests enjoy hiking our many game trails on Elk Mountain. And they also enjoy the hearty food prepared in our ranch cookhouse by our own chef.